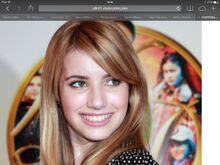 Emma Rose Roberts
(born February 10, 1991) is an American actress, model and singer. She rose to prominence with her role as Addie Singer in the Nickelodeon television series Unfabulous. She subsequently released her debut album, which also served as the show's soundtrack, Unfabulous and More. After Unfabulous ended, Roberts shifted focus to roles in films, first starring in the film Aquamarine and later as the title character in the 2007 film Nancy Drew. She is mostly known for her role as Jill Roberts in Scream 4.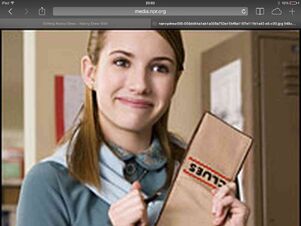 Nancy Drew (2007 Film)
Emma Roberts portrayed Nancy Drew in the 2007, loose adaption of the Nancy Drew book series.
Early Life
Roberts was born in Rhinebeck, New York. She is the daughter of actor Eric Roberts and Kelly Cunningham, the stepdaughter of Eliza Roberts and Kelly Nickels, and the niece of actresses Julia Roberts and Lisa Roberts Gillan. She also has a half sister, Grace. During her childhood, Roberts spent time on the sets of her aunt Julia Roberts' films. These experiences sparked a desire in Emma, from the age of five, to follow her father and aunts into the film industry. Her mother initially wanted her to have a normal childhood.
Personal Life
In September 2011, Roberts began attending Sarah Lawrence College but by January 2012, Roberts left school to concentrate on work commitments.
Roberts began dating actor Evan Peters in mid-2012. Roberts was arrested for domestic violence against Peters in Montreal, Quebec in July 2013. Someone at the couple's hotel overheard a dispute coming from their room and called police, who arrived to find Peters with a bloody nose and several bite marks. Roberts was released several hours after her arrest when Peters declined to press charges. In a joint statement, Roberts and Peters called it "an unfortunate incident and misunderstanding," and stated that they "are working together to move past it." Media reports on January 6, 2014 said they had become engaged over the holidays.