James Jehousephat Thompson
owned the Royal Palladium Theater in the 1920's.
History
J. J. Thompson was born in Hannibal, Missouri in 1891. He is the 5th son of Jasper Jimminy Thompson and Mary Tally Monroe. J. J. owned the Royal Palladium Theater in St. Louis in the 1920s. When Harry Houdini was going to perform his "Escape from the Watery Grave", Thompson didn't think he could do it and agreed to give him half ownership of the theater when he succeeded.
J. J. was quite the swindler and never gave Louisa Falcone, Nicholas Falcone's grandmother, credit for her artwork in the theater; however, she did end up having a say in what happened to the building, as Harry Houdini had given away his ownership of the theater to her. While the four older sons followed in their father's footsteps, serving their community as large animal veterinarians, James was born an entrepreneur and showman. At the age of 6, he was already selling tickets to local boys to see his one of his older brothers birthing a calf. JJ could attract an audience to almost any event.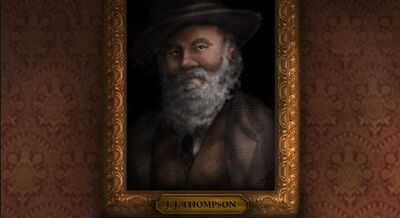 At the age of 18 he moved to St. Louis to make it big.
By the age of 34, he had built The Royal Palladium Theater, with grand ambitions to make the theater one of the foremost venues in the country for magic acts. He had the stage specially built to attract and accommodate the masters - Frank Shapow, Dizzy Noshun, Rufus "Smoke and Mirrors" Brown, Zagad the magnificent, and the greatest of them all, Harry Houdini.
Over the course of Thompson's lifetime, The Royal Palladium became world-renowned. After his death in 1950, his children carried on the entertainment tradition, and the theater remains in Thompson's name to this day.
Community content is available under
CC-BY-SA
unless otherwise noted.