This is a page for minor characters that do not have enough information to have their own character page. These characters can be either in a small and/or minor voice role, or can be mentioned characters with interesting details.
Emily Foxworth
Voiced by Shannon Kipp
Emily is a friend of the Drews, who lives in San Francisco as a photojournalist. She is very knowledgeable about many things that come up during Nancy's investigation, including the history of San Francisco and Victorian mansions. During the game, she is doing a piece on "The Dragons of San Francisco." At the beginning of the game, she has recently gotten back from an assignment in Egypt, where she mentions she was bad at riding a camel. At the end of the game, she has been assigned to a story in Mexico.
Hue Straddenier
A friend of Rose's, who she recently wrote to.
The Letters
Dear Rose,
How are you doing? I haven't gotten messages from you in some time. I hope life is treating you well. Last I heard of, you were in the middle of planning some sort of crazy scheme to buy an old Victorian mansion. So, what ever became of that? Did you buy it? Now, how can you afford to do something like that? Who did you find as a partner to help lead this plan?
I hate to admit it, but I haven't been up to a whole lot lately. Life around here has been pretty dull. Nothing too great is happening here, just a bit of the same ol', same ol'. I need to fall into wealth, fame, and fortune so I'll have more to write about. how's your cat and that friend of yours, Abby? The last time we spoke, she talked a lot about gold and its great spiritual significance.
Maybe I'll follow your lead and take on an ambitious project of my own! I could use the money. I've been saving to drive out west to visit you. An adventure on the road could be just the key to motivate me. If some of the rumors I've heard of your buying this house are true, I'll definitely have to come and visit! I'll use the excuse of coming to visit to check out your new investment!
I'm learning Chinese and also considering taking a trip to Beijing. A friend of mine sent me a poem she wrote in Chinese the other day. Now I want to go there!
Well enough rambling! I've got to go, but I hope to hear from you soon!
Yours truly, Hue Straddenier
Dear Hue,
I'm doing great! How are you? Yes, the rumors are true: I bought myself a Victorian mansion! It's funny you should mention Abby; she's actually the one who decided to go in on this [deal] with me. We're still in the process of restoring the glace. It's a lot of fun, but also a lot of fund work. We're beginning to get a little worried that we'll fall behind schedule if we're not careful. There've been several accidents lately that have interfered with our work.
When you visit, you can stay in the Chinese room! We've just bought some new furniture for the room! We're just waiting for the wallpaper to dry before we move everything in. With all of the distractions and the schedule, by the time I finish writing this letter, I'm sure we will have completed the restorations altogether! I'll try to get it into the mail before [Letter ends]
Christi Lane
The owner of Wickford Castle, a great-niece of Ezra Wickford, and a friend of Carson's. She invites Nancy to the castle for a vacation, but is suddenly called away on business before the snowstorm and Nancy's arrival. At the end of the game, she calls and offers Dexter (Ezra's adoptive son) a partnership in the castle.
Isabelle
Isabelle is Jacques' fiancee, a student at the University of Wisconsin in Madison. She is tired of waiting, and is threatening to break up with Jacques if he does not get her an engagement ring. At the end of the game, they elope.
Sergeant Mac Ramsey
Voiced by Bob Heath
Sergeant Mac Ramsey is a police sergeant in the Missing Persons Unit of the St. Louis Police Department. Ramsey ignores Nancy's hunch that Maya is still in the theater, and is convinced the kidnapper has taken her elsewhere, especially after the unknown ransom demand call from Granite City.
Sherman Trout
Voiced by Scott Carty
Sherman Trout is a historian at the United States Library of Congress. He worked with Eustacia Andropov while assembling the Harry Houdini collection (she called him "Shermie"). He is able to send Nancy a projection slide concerning the fate of Houdini's ownership of the theater.
Louisa Falcone
Louisa Falcone is Nicholas' paternal grandmother, who built the theater in 1925. However, J.J. Thompson swindled her, and did not pay her. She later died at the age of 97.
As it turns out, J. J. wanted to give her part ownership of the theater (as he did with Harry Houdini), and Houdini signed the contract with him. For whatever reason, Louisa was never informed of this. The documents remained hidden away in a secret attic, until Nancy found them in 2001.
Jacob Hughes
Jacob Hughes is the late brother of Joseph Hughes. Joseph tells Nancy that, after the demolition, he plans to move to Greasewood, Arizona, and open a movie theater with Jake there. However, as Nancy discovers, Jake died from emphysema about six months prior to the game. It seems that he and Joseph may have been estranged, as no one there knew he even had a brother, and Jake never mentioned any family.
Gordon Bluefoot
Voiced by Scott Plusquellec
Henrik's male nurse. He calls Nancy to help Henrik with "Reality Orientation", as he cannot find any of Henrik's family members. After Nancy first sees Henrik in the hospital, Nurse Bluefoot kicks her out of the room (although he is not seen).
Henry Albert Daddle
Voiced by Scott Carty
The owner of one of the Pacal carvings, which was a family heirloom. He lives in South Dakota, and is the father of artist Poppy Dada (although he calls her by her birth name, Penelope).
Sheila Schultz
Voiced by Amy Broomhall
The curator at the Chaco Canyon Cultural Center in Arizona. She is also Henrik's ex-boss, although he left on good terms. She has a fifteen-year-old child.
William Akers
The right-hand-man of Mickey Malone. Following his arrest, Mickey left clues for Willie to find the The Hole-in-the-Floor Gold they had stolen just a few months prior. However, Willie was never able to find it, and gave up to support his family. He was married to Callie Akers, and was a father to Sarah and Joe.
He is the paternal grandfather of Jeff Akers, though he hides it out of shame for Willie's past as a gangster.
Tucker Davis
A local citizen, who Emily calls to get rid of the tree in Sally's driveway. Emily says he is slow at responses, but it is unknown if she was lying just to keep Nancy at the lake.
Uncle Zak
Bess' uncle, who is a bird hunter. She does not like him, although she does not elaborate on whether it's because of his hunting, or other reasons. He could possibly be George's uncle, although as Bess said "My Uncle Zak" while with George, it is safe to assume he is not a relative of George.
Paula Santos
Voiced by Keri Healey
A friend of Carson Drew, Paula asks Nancy to investigate the mysterious happenings at Captain's Cove Amusement Park. She used to co-own the park with Darryl Trent, until he was forced to sell his share to her amidst financial problems.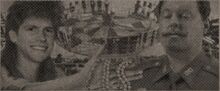 K.J. Parris
Voiced by Fred Draeger
The lead detective on the 1983 case, where jewels stolen from the Captain Quarter's Hotel safe were found in the park. Though the thief was caught and recently died in prison, the case was never completely solved due to most of the jewels never being found. Parris assists Nancy in the new case by giving her information about the case he worked on.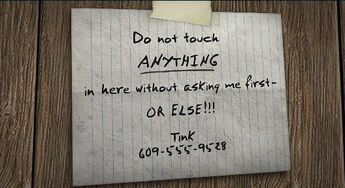 Tink Obermeier
Voiced by Fred Draeger
Tink is the Carousel operator at Captain's Cove. During the game, he was on a fishing trip in the Canadian Wilderness.
Hotel Operator
Voiced by Unknown
During the game, Nancy can use the phone on her nightstand to communicate with the hotel operator. She has a heavy New Jersey accent, and is filling in for the regular operator, her cousin Amber (who took the week off due to Paula closing the amusement park).
Casey Porterfield
Voiced by Jonah von Spreecken
A friend of Katie Firestone, who works as a librarian at The Maritime Library. He helps Nancy identify The Whitechapel Dawn by it's wood. He tends to forget things and is somewhat eccentric.
Ed and Bet Rawley
Voiced by Shannon Kipp and John Nelson
Bess and George's uncle and aunt, and the new owners of Shadow Ranch. They used to own a dress store Bet's Best Bets, but sold it to buy Shadow Ranch. They invited Bess, George, and Nancy for a vacation at the ranch. However, before they were scheduled to arrive, Ed was bit by a rattlesnake, and had to go to the hospital.
Bet is a fan of Charleena Purcell. She invited Charleena to the ranch to do research on Dirk Valentine.
They are also mentioned in The White Wolf of Icicle Creek, as the ones who recommended Nancy to Chantal Moique.
Sheriff Hernandez
Voiced by Gary Hoffman
The local sheriff, who is in charge of the police investigation over the mysterious happenings at Shadow Ranch. He helps Nancy with information about the case.
Jane Nash
A former employee of the Rawleys, and Tex Britten's sister. Jane used to work at Bet's former shop, but Bet fired her for being lazy. She wrote an angry letter to the Rawleys, which could be found in their desk.
Engineer
Voiced by Jason Sharp
The engineer of the train. He knew about Lori faking her disappearance. Nancy can call him on the phone in the kitchen car, but he will not talk to her. Joe said that, when the emergency brake was pulled, he fixed it.
Lynn Manrique
Voiced by Dana Cali
A historian in California, Lynn is interested in touring the moulin for research on Noisette Tornade. Nancy can call her to learn information on Noisette, and about the French Resistance during World War II.
Monsieur Marchand
Voiced by Tim Moore
The male park vendor, near the pinwheel. He offers Nancy to paint pictures for money.
Monique
Voiced by Megan Hill
One of the female park vendors, located at the back of the park. Only her back is seen when Nancy faces her booth, as she plays with a yo-yo facing the river.
Malika
Voiced by Shawnmarie Yates
One of the female park vendors, located at the front of the park. She appears to wear a burqa, or a face scarf.
Ernst and Gunter Schmeck
Voiced by Stephen Hando and Tim Moore
Two German businessmen. The brothers own Schmeck Brothers Shipping and Delivery, and live in Paris. They are first mentioned on the fifth day (September 1), when Nancy can read the newspaper where they are the top story. It is later revealed they are associates of Minette, who paid her a "small fortune" to alter the First Lady's dress so they could eavesdrop on the World Summit and sell secrets.
Newspaper Article
SCHMECK BROS. REFUTE RUMORS OF UNDERWORLD TIES
Gunther and Ernst Schmeck, owners of Schmeck Brothers Shipping and Delivery, called a press conference yesterday to dispel the rumor that their company has been smuggling stolen goods into Paris for reputed German mobster Wolfgang Fetzer.
Gunther Schmeck, who did most of the talking, was unequivocal. "We are legitimate businessmen and have never engaged in illegal activities of any kind. This vicious rumor was obviously started by someone searching for a scapegoat, someone who assumed that just because we once worked for the government of East Germany, people would automatically think we are guilty. And we are most certainly not."
When asked what kind of work they had done for the East German government, Gunter Schmeck admitted that he and Ernst had been members of the secret police, or STASI. "But that was almost twenty years ago," Gunther Schmeck pointed out. "Moreover, back then we were doing the government's work. Now we work for ourselves. Our past has absolutely no bearing on our present."
The rumor of their alleged involvement with Fetzer started to circulate after one of Fetzer's associates, Nils Dilman, was arrested for possession of stolen property.
Amy Grunhild
Minette's main financial backer, who is also a friend of Carson. Worrying she made a mistake in her investment, she hires Nancy to investigate Minette and report back to her about why Minette has run so far behind.
Elsa Sibblehoth
Voiced by Lani Minella
Elsa is one of the former maids at Icicle Creek Lodge. She quit on January 15, after her tires were slashed. While she assumed it was the wolf, Nancy discovered it was actually her ex-boyfriend Larry, who was jealous she was spending all of her time at the lodge. Nancy can call Elsa to question her. She tells Nancy she is now chasing her dream of singing.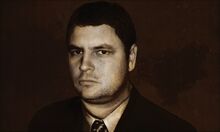 Leo Machiano
The leader of an Italian crime ring. Leo used an elaborate system in which only he knew who everyone in his ring was. Enrico Tazza was among those in his ring, as the one who hid what was stolen.
Helena Berg covered his trial for Eurowelt magazine.
Alan Payne
Alan is the boss of Matt Simmons, and his best man. Matt reportedly asked Alan to be his best man, in hopes that he would get a raise or promotion; however, it was also implied that Matt asked him instead of his best friend Kit Foley due to Kit still having feelings for Kyler. Alan initially came to Castle Malloy with Matt, Kit, and Kyler, to help with the wedding. However, he decided to go back to London after Matt's disappearance, due to infighting among the trio and the assumption Matt was pulling a prank.
Nancy is able to call him about his time at Castle Malloy on the payphone outside the Inn.
Paige Griffin
Voiced by Charissa Bertels
Paige is the Residential Adviser for Ramsey Hall. Although Paige is never actually seen, she makes her presence known through text messages. She is able to give credits or demerits; Nancy will get a text whenever she earns a credit or demerit. She lives in the dorm right next to Leela Yadav and Izzy Romero.
One night, Nancy may hear a scream. Paige's voice can be heard saying that it's nothing, snapping that if anyone leaves her room to check it out, the unlucky girl will be slapped with five demerits. If Nancy sneaks around late at night, she can occasionally see Paige's silhouette patrolling the corridors with a flashlight.
Pete Heneger
Pete was a student from Canute College, who worked on the chasing team as an intern in his freshman year. However, he broke his leg in a suspicious accident, and P. G. Krolmeister sent Nancy undercover to investigate the team's "accidents". Debbie later revealed that Scott forced Pete to go into a dangerous part of the storm.
Maryanne
Kasumi's friend. Maryanne encouraged Kasumi to follow her dreams of exploring the world - dreams that did not make her mother Takae very happy. Kasumi eventually settled into the role of running the Ryokan, much to Takae's pleasure. Her and Kasumi were supposed to meet the night of Kasumi's death. When Nancy spends the night at Yumi's, she sees a letter Kasumi wrote to Maryanne.
Kasumi's sister
Takae mentioned Kasumi has a younger sister. However, she married a foreign man, and moved overseas (meaning he was possibly part of the military). Although she encourages Takae to come and visit her in he States, she says the Ryokan is too far, and did not even come to Kasumi's funeral.
Austin Neely
Jessalyn's father. He is not mentioned, other than by the family tree found in Jessalyn's backpack. It is assumed he is no longer apart of her or Clara's life.
Community content is available under
CC-BY-SA
unless otherwise noted.