This page is for the 2019 TV character. For other versions of the girl detective, see Nancy Drew.
"

Mysteries are everywhere, and I love solving them.

"
— Nancy Drew
Nancy Drew is the lead character of The CW's Nancy Drew 2019 television series. She is portrayed by Kennedy McMann.[3]
Character
Character description from the official synopsis:[4]
Nancy Drew is a brilliant teenage detective whose sense of self had come from solving mysteries in her hometown of Horseshoe Bay, Maine – until her mother's untimely death derails Nancy's college plans. Devastated by her mother's passing, Nancy swears off crime-solving while crossing off the days until she can re-apply to college. But when a socialite is murdered, Nancy finds herself a prime suspect in the crime, along with a group of other teens present at the scene: Nancy's nemesis from high school, George Fan; a rich girl with a mysterious past, Bess Marvin; Nancy's secret boyfriend, Ned "Nick" Nickerson; and amiable burnout Ace. The five of them must team up to clear their own names – encountering emotional entanglements and even more mysteries along the way. Nancy's reawakening brings her into conflict with her widowed father, Carson Drew, who is dating Detective Karen Hart. And, when a supernatural presence begins to haunt Nancy's investigation, she discovers that the current crime has an astonishing connection to the long unsolved murder of a local girl. Whether the ghost is here to help, or hinder Nancy remains to be seen, but one thing's for sure: Nancy's going to have to unravel the clues from both the living and the dead to solve the crimes.
History
"

Lucy's baby thrived. She grew up to be whip-smart, and compassionate, and kind, and...endlessly curious. And she loves solving mysteries.

"
— Carson about Nancy
Nancy's biological mother was the seventeen-year-old Lucy Sable, who had a relationship with Horseshoe Bay's richest teen Ryan Hudson. Their relationship was frowned upon by Ryan's elite parents, who disapproved of Ryan's relationship with a "townie". They wanted Ryan to end things with Lucy, and to please his parents, they pretended to break up. They continued to see one another secretly, even after Ryan left for boarding school. They spent a final night together on New Year's Eve, 1999. They failed to use protection and a few months later, Lucy found out she was pregnant.
She kept her pregnancy a secret as she had been threatened by Everett Hudson, who told her that if she had the baby her life would be over and so would her child's. She arranged to meet with Ryan the night she died, as she wanted to tell him about the baby. Ryan didn't arrive in time, so Lucy went to the bluffs where she gave birth. She called Katherine Drew, her guidance counselor and confidante for help. Katherine and her husband, Carson, arrived moments after Lucy gave birth. She begged the couple to take her baby and keep it safe from the Hudson's. When the Drews turned their backs to examine the baby, Lucy fell to her death.
Carson and Katherine brought the child back to their house, where they cared for her all night. By morning, they had fallen in love with the girl and named her Nancy. They left Horseshoe Bay to keep the child's origin a secret, but returned a few years later. Things were safer as everyone believed Nancy was their daughter, so they chose to stay and raise her in Horseshoe Bay. Nancy had a great life where she thrived and became enthralled in solving mysteries. Carson and Katherine never knew who Nancy's biological father was, and decided to keep Nancy's origins a secret for her own protection.
Nancy began solving various crimes from the age of twelve. When she was in seventh grade, a local girl named Rose Turnbull went missing and the whole town banded together to find her. Nancy was the only one who saw the abnormal behavior exhibited by Nathan Gomber. She followed him to an abandoned warehouse where she ultimately found Rose and saved her life. She pulled the fire alarm to bring the police to her and Rose's location. She was successful, though the paranormal things she witnessed at the warehouse triggered her to put a wall up between her and the rest of the world. This included her father and mother. Nancy delved deeper into her amateur sleuthing ability, and even donned the nicknamed "Nancy Drew - Girl Detective.". In the tenth grade, she busted a nature cult that was operating out of Red Gate Farm. She also solved the following cases:
"Local Detective Aids Police Hollow Oak Mystery Solved" (reference to The Message in the Hollow Oak)
"Stolen Horse Returned"
"Top Story: Girl Detective Uncovers Secrets of Pine Hill" (reference to The Phantom of Pine Hill)
"Horseshoe Bay's Own 'Girl Detective' Identifies Serial Arsonist Based on Clues from Decades-Old Live Journal Posts"
"Wooden Lady Missing From Ship: Young Detective Investigates Historical Relic" (reference to The Secret of the Wooden Lady)
"Kidnapping Plot Uncovered - Ivory Charm Key Evidence" (reference to The Mystery of the Ivory Charm)
"Daughter of Local Attorney Discovers Client's Missing Will in Antique Clock" (reference to The Secret of the Old Clock)
Despite Nancy's success at being a detective, her parents tried to discourage her as the local police found her as more of a menace than a helper. Nonetheless, she planned to attend Columbia University upon graduating. During her senior year of high school, Nancy became sea Queen at the local pageant, where she and her friends honored the fallen sea Queen Dead Lucy at her tombstone. Nancy's mother, Katherine Drew, later died of pancreatic cancer. This event ceased Nancy's desire to be a detective and she temporarily stopped solving crimes. She deferred college for a year and secured a job as a waitress at The Claw. She also has a strained relationship with her father, which only worsened after her mother's passing. She also struck up a no-strings-attached relationship with the town mechanic, Ned "Nick" Nickerson.
Plot Summary
Nancy Drew is a recently graduated high school student taking a gap year, spending her days waitressing at The Claw and her nights with her secret affair Ned "Nick" Nickerson. She is also mourning the death of her mother, Katherine Drew, and has stopped solving mysteries. Her relationship with her father, Carson Drew, is strained due to Carson withholding the severity of her mothers illness which didn't allow her to say goodbye.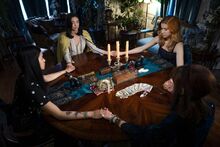 Her relatively normal life changes one night while working a late shift at The Claw. Nancy and her co-workers, Bess Marvin, George Fan, Ace, and Ned "Nick" Nickerson, discover the murdered body of rich socialite Tiffany Hudson. The group becomes suspects and are forced to work together to solve her murder to exonerate themselves. Nancy uses her primitive investigative skills to find clues and explore leads that the police won't, including the involvement of Tiffany's in-laws, the wealthy Hudson family. Her investigation takes her to Tiffany's husband, Ryan Hudson, who has a locket connecting him to the cold case of Lucy Sable, a teen who was killed eighteen years ago. Nancy, Bess, and George contact a medium who helps them reach Lucy's spirit, who instructs Nancy to "find the dress". Nancy discovers that her father is secretly dating detective Karen Hart, and that Nick served time after Tiffany testified against him in court. She decides to try and figure out who killed Tiffany, with all of her co-workers as suspects. That night, while investigating in the attic, she finds Lucy's bloodstained dress in a locked chest.
Her investigation leads her to make shocking discoveries about her alleged friends. She learns that Bess is a poor English woman and the long-lost member of the Marvin family, Nick was arrested for a murder her didn't commit, and George had an affair with Tiffany's husband, Ryan. She eventually learns that Ace is working for Chief McGinnis and feeding him information in exchange for staying out of prison. Their friendship recovers when he tells her the truth of why he hacked into the government files. Nancy also steals Tiffany's blood to have a private mortician test the blood samples, as she suspects the wealthy Hudson family may have played a part in her murder and worries they'll fake the results. Tiffany's spirit begins to reach out to the Drew Crew for help, and their attempts to place her at rest leads to George being possessed by Tiffany.
Nancy simultaneously helps free George from Tiffany and investigate Lucy Sable's death, which she still believes is connected to Tiffany's. She learns that detective Karen Hart, her fathers girlfriend, used to be friends with Lucy. She also discovers that Lucy was dating Ryan Hudson before her murder. She meets Owen Marvin, Bess' cousin, who helps Nancy into an elite party that both Tiffany and Lucy had attended in separate years. Once there, Nancy learns that Ryan's parents had Carson, their family's personal attorney in 1999, get rid of Lucy. They wanted to keep her away from their son and cover up her discovery of an affair between Owen Marvin's uncle and Ryan's mother Celia Hudson. The rift between the Hudson's and the Marvin's is due to the Hudson's faking the sinking of a ship, the Bonny Scot, to kill Owen's uncle after the affair. They kept the bounty of treasure aboard for themselves. The coins onboard can prove the murders, but Nancy uses them first to perform a séance so she can commune with Lucy. Nancy also uses Lucy's bracelet, procured from Lucy's half-brother Josh Dodd, to help contact Lucy.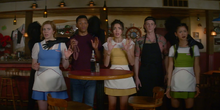 The coins are destroyed in the séance and Nick ends he and Nancy's relationship, as she refuses to open herself up to him. Nancy and the Drew Crew are also visited by malevolent spirits that were drawn to Horseshoe Bay after the destruction of the Bonny Scot coins, as the dark energy within served as a beacon. When George's younger sister Ted Fan is abducted, Nancy draws similarities between Ted's abduction and the first case she solved at twelve. Along the way, the gaps in her memory from that night are revealed to be the product of Simon, an evil entity whose dormant state was disrupted when she used the coins in the séance. She is ultimately able to destroy the altar Simon's followers created for him, which destroys his hold to the mortal world and allows them to save Ted Fan.
Detective Karen Hart steals Nancy's journal and uses its contents, along with a recently acquired murder weapon, to arrest Carson for Lucy's murder. She tries to prove her fathers innocence and turns to Everett Hudson, Ryan's father and Tiffany's father-in-law, for help. He proposes a deal: if she sabotages Owen's efforts to expose the Hudson's wrongdoing, he'll help Carson be released from custody. Owen introduces Nancy to Bashiir, the only survivor of the Bonny Scot, who is haunted by his fallen comrades due to survivor's guilt. Nancy arranges a sting led by Bess' girlfriend and undercover detective Lisbeth, to arrest Everett instead, which puts her directly in the Hudson family's crosshairs. She also finds Katherine's files regarding Lucy in the Hudson family mansion. The files lead Nancy to believe that Lucy's mother was involved in her murder.
Nancy and the Drew Crew visit Lucy's mother, Patrice Dodd, in a mental asylum where Nancy is trapped inside a whisper box. The box places her in an alternate world where everything is seemingly perfect. Most notably, her mother Katherine is alive. Nancy is able to escape by confronting the trauma over her mothers death and accepting the life she needs to return to. She awakens to find a lockbox key from the Historical Society, and meets Hannah Gruen, the keeper of the society and guardian of its contents. The lockbox contains a video of Tiffany claiming that someone was following her, but the video stops early to show a ghost watching Tiffany. Nancy believes the ghost is Lucy Sable, and that Tiffany was killed for trying to uncover Lucy's killer.
With the help of Ace, Nancy learns that Ryan and Lucy were emailing in the months before her death as they were dating. They were supposed to meet the night of Lucy's death. Determined that the events of the night of Tiffany's murder will help solve both cases, Nancy brings the Drew Crew, Tiffany's sister Laura Tandy, Karen Hart, and Ryan Hudson, to The Claw. They reenact the night of the murder which leads them to a breakthrough: the poisoned salad was meant for Ryan and not Tiffany, as revenge for Lucy's murder. Lucy's spirit appears to Ryan who flees, though Nancy visits Josh Dodd to gain access to Lucy's computer.
Once there, she learns that Josh poisoned the salad to get revenge for his sisters murder, with Tiffany's death having been accidental. Josh attacks Nancy though she escapes when he electrocutes himself, though his body mysteriously vanishes. Nancy works with the Drew Crew to prove that the poison used to kill Tiffany came from the police station, and Josh had an accomplice: Karen Hart. This evidence is futile in proving Carson's innocence, as he is still being charged with Lucy's murder. They need physical evidence to free Carson, so the Drew Crew learns of an ancient spirit that grants wishes to its caller: the Aglaeca. Nancy and the Drew Crew, including Owen Marvin, call to the Aglaeca who delivers Lucy's bones. The spirits toll for the bones is Owen's life, so the Drew Crew and Nancy interrupt the Aglaeca's collection and save Owen.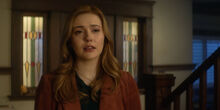 Nancy and Owen begin a relationship, though the next day, she coughs up the Aglaeca's seaweed wreath, indicating that the spirit is vengeful for them not having paid her toll. Nancy brings in a forensic scientist to examine Lucy's bones, but leaves to interrogate several witnesses that could help her piece together Lucy's final hours. She enlists the help of Ryan Hudson, learning that both Everett Hudson and Karen Hart saw her before her death. They learn that Lucy was pregnant with Ryan's child when she died. Nancy and Ryan find Lucy's journals which she reads to the courts, revealing that Lucy was depressed before her death. She stole a knife from the Drew's house, went to the cliffs, and killed herself. Carson is exonerated of the charges and released, though Nancy confronts him about being a mother-daughter match to Lucy. Carson confirms that Lucy either fell off the cliffs or killed herself after Nancy was born, only asking the Drew's to keep her daughter safe from the Hudson's. Nancy realizes that Lucy was attached to her because of their relation.
As she recovers from the revelations, she and the Drew Crew continue to have visions from the Aglaeca as revenge for not paying her toll. George's mother Victoria instructs them to perform a ritual to appease the spirit, with Nancy needing the blood of a relative for the ritual to work. She is forced to tell Ryan, who is looking for his child, the truth and ask his help in performing the ritual. The ritual only angers the Aglaeca, who isn't a sea spirit but a human spirit that was wrongfully executed as sea. Nancy and the Drew Crew find Owen's body in a bathtub, with him having been murdered. Hannah Gruen, the keeper of the Historical Society, is confident the Aglaeca didn't kill Owen as she comes for her victims in a group. With Lisbeth's help, Nancy learns that Josh Dodd killed Owen. She visits Patrice to reveal herself as Lucy's daughter, and is surprised to be accepted by her grandmother. She finds Josh who tries to kill her until she reveals her identity as his niece. Josh is arrested for Owen's murder. That night, Nancy and the Drew Crew receive violent visions of how the Aglaeca plans to kill them, with Nancy's vision of falling off the cliffs eerily similar to how Lucy died.[5]
The group learns that their visions are portents from the Aglaeca, detailing how she plans to kill them. Nancy is distracted by Detective Abe Tamura, who suspects her in a comatose girl's accident since her last words before becoming comatose was "Nancy Drew". She works alongside the Drew Crew to learn that the girl, Amanda Bobbsey, was planning to sell the Drew Crew a mirror allegedly used by the original Women in White. They track down Amanda's twin brother Gil Bobbsey and save him from the Gorham Wraith, a vengeful woodland spirit that feeds off fear. To save her friends, Nancy allows her fears to overwhelm her so the Gorham Wraith will attack her and not the Drew Crew or Gil. She remembers all the terrible things that she's seen over the years, including the death of both her mothers, the masque ball, the Hudson family, and realizes she's afraid of herself and that she's the worst part of everyone in her family. She destroys the Wraith with fire and is pulled out of the burning bus by Gil moments before it explodes. She then buys the mirror from Gil and unlocks another clue about the Aglaeca - a sea shanty that she wrote.
After smoothing things over with Detective Tamura, she is gifted the mirror by Ryan who had taken possession of it as the mirror was a Hudson heirloom. Nancy meets with Ace as she knows he blames her for getting them into the situation and she wants to make it right. He doesn't doubt Nancy will get them out of it, he's still scared. He asks her not to sacrifice herself to prove she isn't a Hudson, because he doesn't want to lose her. As she and the Drew Crew follow many leads to defeating the Aglaeca, a former Aglaeca victim latches onto Nick. They get rid of the spirit but learn that the spirit and the other Aglaeca victims died within seven days of making their deals. With only three days left, Nancy tracks down the only surviving Aglaeca victim and learns that he has dodged the Aglaeca by surrounding himself with other angry spirits. He later allows himself to succumb to the Aglaeca's wrath.
With 46 hours left before the Aglaeca comes for them, Nancy plots with the Drew Crew to build a dybbuk box to trap the Aglaeca, now known as Odette Lamar. She works alongside Bess to uncover more of Odette's past. While they succeed in drawing Odette to the box, she destroys it. With only a day left to stop the Aglaeca, and all their plans have failed, the group begins to turn on one another. Nick yells at Nancy for using people as distractions for her pain, to which she reminds him that her mom had just died when they started hooking up. George thinks Nancy's using distraction to avoid tying up loose ends. Bess blames Nancy for all of them being cursed. Determined, Nancy later figures out that they can use the Aglaeca's portents against her. Everyone goes to the places where their portents take place, and the group admits to one another their regrets just in case. Nick regrets not following through on Tiffany's last wish and asks Nancy's permission to dismantle the Hudson empire now that she's part of it. She gives him her blessing but regrets hurting all of them and the Drew Crew believes her.
They use their portents and Nancy and the Drew Crew believe they have won until they experience a new death vision of them all on the floor of The Claw having died, as they didn't kill the Aglaeca only angered her. Nancy convinces the group to try reading Odette's letters to her English lover, as they may be able to restore Odette to a human spirit. The plan works in transforming Odette back into a human, though the blast she releases upon her transformation throws everyone backward. George is impaled with a harpoon and dies in Nick's arms, surrounded by her friends.
In a desperate attempt to save George, Nancy breaks into the Historical Society. Against Hannah Gruen's pleas for her to stop, she breaks the circuit box keeping the lockboxes sealed. She steals an ancient shroud and uses it to resurrect George. She unknowingly releases all of the supernatural entities that were contained in the boxes, plaguing Horseshoe Bay with various spirits. Weeks later, Nancy works off her breaking and entering charge at a morgue. When a strange case comes in, Nancy's interest is piqued, but none more than when the corpse falls out of her kitchen cabinet. She and the Drew Crew work together and discover just in time that the lamia abducted children but its spirit was dormant as one of the Women in White trapped the lamia's soul in a vial that was stored in Box 12 of the Historical Society. Nancy and the Drew Crew call forth the lamia's victims who drag the creature away, thus, saving George's sisters who had been abducted by the creature.
Nancy continues to run into Gil Bobbsey and the Bobbsey twins as she works a string of odd cases. She believes in Gil and they begin to work together. Nancy works on the case of a missing girl at a murder hotel, and the case gives her the courage to apply to college. She investigates a robbery at a florist shop, which results in her being infected with the lust of centuries of women. While under the effect, she is attracted to every man she sees - including Tamura, Ace, and Gil. When she is freed, she allows herself to have what she wants and starts a relationship with Gil Bobbsey. She also helps George uncover that Odette Lamar's spirit is trapped inside her body as a result of the shroud, which both Odette and George's spirit into her body. Nancy also wins over Detective Tamura who reluctantly agrees to let her assist him in certain cases that pertain to the supernatural aspects of Horseshoe Bay.
She is forced to confront her biological family when Celia Hudson learns that Nancy is her biological granddaughter through a reporter's DNA test. As Nancy struggles to help Nick with a being that kills those who know its name, she confronts Celia about keeping her identity a secret. When Celia refuses, Nancy uses the memory gas to strip Celia of her memories to bide time. Nancy and her friends become trapped in a memory erasure loop as each of their attempts to kill the creature fails. They destroy it by releasing its name, Grimathorne, to the public which debilitates it. With the Grimathorne destroyed and everyone's memories restored, Nancy once again speaks with Celia, as they had bonded while their memories were gone. She pleaded with Celia not to tell Everett about her as she can be trusted. Celia reluctantly agreed to see how things played out.
With Everett's trial nearing, Nancy is a key witness in the prosecution's case. Celia attempts to blackmail Nancy into retracting her statement about Everett being involved in the sinking of the Bonny Scot. She initially refuses as it would ruin her credibility. Meanwhile, a former murder-for-hire, Daniel West, blackmails Ace's half-brother Grant with the threat of killing his mother if he doesn't retrieve a device she hid in Red Gate. Ace and Grant recruit Nancy's help and learn that the device holds the names of witnesses who helped dismantle a corporate company called the Holt Group. When the company was shut down by a whistle-blower, Grant's mother, Daniel was forced to testify and go into witness protection.
When Ace is kidnapped by Daniel West, Nancy is forced to hand over the device in exchange for Ace's life. West inadvertently reveals that the Holt Group was just a small part of an Illuminati-esque group called The Road Back. As West escapes, Nancy assures a frantic Ace that she asked Celia for help in getting the device back. Celia assured her that no blood would be shed, but Ace is surprised that she believed Celia. Nancy merely responded that she couldn't lose him. Celia follows through with her promise so Ace and Grant lock the device in the Historical Society boxes that Nick had fixed. In return for Celia's favor, Nancy withdraws her statement that Everett was involved in the Bonny Scot accident.
She works on the case of a young girl, Birdie, who was trapped on Moonstone Island after her parent's shipwreck but looked after by the ghosts of pirates. As Nancy helps Birdie, she begins to notice the ramifications of her recanting in Everett's case, as the local police no longer trust her judgment. She also begins to wonder if good and evil are so definitive since the pirates changed out of love. Both Nick and Ace warn her that Celia Hudson won't change just because Nancy is her granddaughter, though Nancy believes she might.
With the help of billionaire Tom Swift, Nancy learns more about The Road Back. They used to be a cult in Horseshoe Bay until the Women in White hexed them to murder one another. Two members survived and left the town to create The Road Back. With Tom and the Drew Crew's help, Nancy sends their phantoms to find peace while helping Tom locate a ninety-year-old comet. Tom inspires Nancy to build walls around "Nancy Drew" to let "Nancy Hudson" survive the world of millionaire murderers.
She launched into the Hudson world and was asked by Everett to investigate his former accountant, Howard Driscoll, as Everett suspected him of releasing confidential documents. He needed to know Howard's contact. She agreed and learned that Howard was Nick's informant and had been killed, an investigation that Nick and Ryan are also trying to solve. They shut Nancy out as they worried about her conflicting loyalties. As she navigated the investigation alone, Nancy leaned on Celia but learned that Everett might already know about their secret. She realized Everett had planted a trap for Nick and Ryan but didn't arrive at the mausoleum in time to stop Ryan, who already exposed himself and Val to Everett's hidden camera. Nick argued that the tape was important, but Nancy countered that Everett moved the tape the second he thought Howard was leaking information. Now, Ryan and Val were next on his hit list. Nancy told them to leave town and not make contact with anyone. She hoped that Celia would be able to convince Everett not to harm Ryan, but when she arrived at the party, she followed Celia to the basement where they found Celia's murdered body propelled on the ceiling. Nancy realized that Everett was ahead of her and might have killed his wife for lying. Celia comforted Nancy and apologized for everything. She couldn't stay even though Nancy begged her to, and Celia vanished. With Celia's death, Nancy revealed her true identity to Everett shortly before she kidnapped him.
With the help of Gil and Ryan, Nancy learned that Everett didn't kill Celia, rather, The Road Back did out of revenge for Celia stealing the list of witnesses for Nancy. Everett blamed Nancy for Celia's death which she believed until Ryan reminded her that she handed over the list to save Ace, while Celia retrieved it to leverage Nancy into recanting her testimony. Together, Nancy and Ryan hatched a plan to recover The Black Crown Tape, which allegedly showed Everett murdering someone. She instructs Gil to free Everett when he has the chance, as she knew Everett would return to the tape's location to move it. She was right and managed to have him arrested by Abe Tamura. The tape showed Everett murdering his brother Josiah in the woods, which shocked Ryan who had been told his uncle died of exposure in the woods from alcoholism. Everett was arrested while Nancy and Ryan discussed how to cope with the loss of Celia and the revelations. They make plans to have lunch the next day. In the meantime, Carson took Nancy to The Claw where he and the Drew Crew revealed that the Gorham Wraith had been attached to her since her encounter with it weeks ago. It fed off her life force and vulnerability, which slowly changed her and hurt her. With the rapidness of the draining, she only had a few days left to live.
The Drew Crew, Ryan, and Carson work together in an attempt to remove the Wraith. Gil Bobbsey arrives to see Nancy, though her markings progress worse in his presence. He tries to convince her that the issue is her friends as they aren't good for her, though she suddenly realizes it's Gil that makes things worse. The Wraith blinded her to his true nature; the controlling, gaslighting, alienating side to him. She breaks up with him but he swears she'll regret it before he leaves. Ace, however, commends Nancy's choice.
Their quest leads Nancy and the Drew Crew to cast a spell that allows them to see how the Wraith was born. They learn that it was created by a disgruntled Temperance Hudson, who was banished from Horseshoe Bay by the Women in White. They travel to New York, where a descendant of Temperance Hudson lives, and convince her to give them the object Temperance used to create the Wraith. They attach the machine to Nancy, but to sever her connection to the Wraith, Nancy has to confront her traumas and grief. To guide her, she creates mental projections of her friends; she fights her darker self with help from George, faces her younger self from she solved her first case with assistance from Bess, pull herself out of a grave on the day she lost her mother and thought she would never be okay again, this time, with help from Nick. Finally, she is taken back to the night of her birth where she has to embrace the fact she was born into a broken life, but accept that the life she was given was also good. She is joined by Ace, who happily takes a baby Nancy, and the two adults share a special moment. Nancy, now in the depths of her mind, breaks the connection between her subconscious Nancy's and instead, binds those connections to herself. She can no longer run from who she is and is ready to confront the things that haunt her. Now free from the Wraith, Nancy awakens and is ready to face the world.
Nancy realizes that she has complicated feelings for Ace, and goes to visit his house only to learn from his mother that he left already for his romantic road trip with Amanda. Nancy, disappointed, returns home to learn that Carson had invited Ryan to stay with them. She reveals that she has decided to hold a press conference and claim Hudson Enterprises as Ryan's heir, but only so she can divide the shares into reparations for Everett's victims. She is about to ask Ryan to sign a release of custody backdated to her birthday, but he already signed it with Carson. She joins her dads, and after a while, discovers a letter in her backpack from Myrtle Hudson, the ancestor she went to see for Temperance's object. The letter reveals that Myrtle was secretly Temperance in another form. She thanks Nancy for her help and promises to see her soon. There is a loud knock on the Drew family's front door.[6]
Physical Appearance
Nancy is a young woman with strawberry blonde hair that falls just past her shoulders, blue-gray eyes, and a slim physique. She wears falls colors such as burgundy, olive green, ginger, but can be spotted wearing blues on occasion. Since her adoptive mother passed, she has worn her locket, and since finding out she was adopted and her biological mother was Lucy Sable, she obtained the slipped the ship's helm charm previously worn by Lucy as a bracelet and added it to the chain so she can wear both of her mothers' jewelry.
Skills and Talents
Having taken up the life of a private detective at an early age, Nancy possesses a number of useful albeit less-than-legal skillsets to aid her investigations and avoid detection by the authorities. Her skills are self-taught to a very high level.
High-Level Intellect: Nancy is extremely intelligent and highly knowledgeable on a wide variety of subjects ranging from organic chemistry to metallurgy to art history. She is intimately familiar with the folklore and mythology surrounding Horseshoe Bay, is an avid reader and was a shoe-in to the college of her choice before her mother fell ill.
Expert Detective: True to her reputation locally and beyond, Nancy is an extraordinarily gifted sleuth and investigator with astounding observational and deductive abilities; before her mother's passing, there was no mystery in town or its environs that she could not solve. She is well-versed in soft and hard interrogation, disarming witnesses, uncovering clues and cultivating a wide network of experts to call upon in times of need. Her expertise led her to be hired as an investigator for Carson Drew's law firm.
Lock Picking: Nancy is a master of picking locks to break into otherwise restricted areas. She has succeeded in breaking into several buildings and safes, including a morgue.
Lip Reading: As a private detective, Nancy took an online course on reading lips so she could "eavesdrop" on conversations from a distance. This has helped her distinguish what people are talking about when she is out of hearing range.
Trivia 
In the novels her hometown is River Heights Illinois. In the CW series, her hometown is called Horseshoe Bay, Maine and Nancy lives at 118 River Heights Drive.
The actress who depicts Nancy as a preteen, Eden Summer Gilmore, previously portrayed a young Betty Cooper on fellow CW series, Riverdale. Betty's character is comparable to Nancy Drew by critics and viewers. Betty even herself is a fan of the Nancy Drew book series.
Nancy took an online course in lip reading. This has helped her distinguish what people are talking about when she is out of hearing range.
In The Haunting of Nancy Drew, Nancy learns that on the night of her birth, she was secretly adopted by Carson and Katherine Drew. Her biological parents are Lucy Sable and Ryan Hudson.
Her real birth date is August 31st, 2000, but her legal birth date is November 19th, 2000, due to her mother's obsession with Abraham Lincoln and that being the anniversary of the Gettysburg Address.

Nancy's name in this version of her character comes from Lincoln's own mother Nancy Hanks Lincoln.
Gallery
Main article: Nancy Drew (2019 character)/Gallery
Appearances
As the lead character, Nancy appears in all episodes of the series.
References