Welcome to Nancy Drew Wiki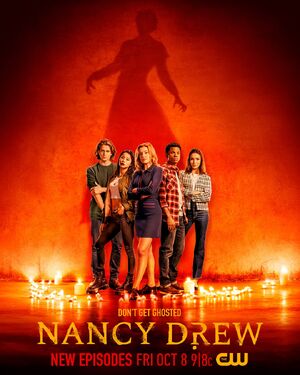 Mysteries are everywhere
Nancy Drew is a teenage amateur detective solving mysteries in her small town of River Heights. Nancy is often assisted on her investigations by the "Drew Crew", typically her two best friends Bess Marvin and George Fayne, and on occasion her boyfriend Ned Nickerson.
The Nancy Drew series began with the Nancy Drew Mystery Stories books, with the first story The Secret of the Old Clock published on April 28, 1930. The books are credited to writer Carolyn Keene, which is a pseudonym used for the various authors. The series inspires various continuations and adaptations to this day, with the stories and characters being updated for contemporary times.
Nancy Drew Wiki is an online encyclopedia created by fans, for fans, that anyone can edit! Ready to share your knowledge? Sign up for a free account and start editing today!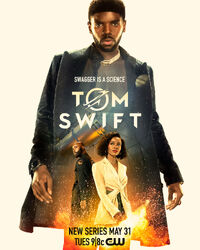 The new Tom Swift TV series is currently airing Tuesday nights at 9pm on The CW. The series is a spin-off of Nancy Drew and the lead character Tom was introduced in the Nancy Drew episode The Celestial Visitor.
As an exceptionally brilliant inventor with unlimited resources and unimaginable wealth, the devilishly charming Tom Swift is a man who many men would kill to be, or be with – a man with the world in the palm of his hand. But that world gets shaken to its core after the shocking disappearance of his father, thrusting Tom into a breathtaking adventure full of mysterious conspiracies and unexplained phenomena.
The first episode of season 1 premiered Tuesday, May 31, 2022 on The CW.
Recent and Upcoming Books
Read all about the Nancy Drew TV series on The CW.
Read all about the most recent Nancy Drew game Midnight in Salem, released December 2019.
Current series
Film & Television
Tom Swift is currently airing Tuesday nights at 9pm on The CW.
The Nancy Drew TV series is renewed for season 4, to premiere mid-season in 2023. All episodes of seasons 1-3 are available streaming on The CW app.
Books
Games
December 3, 2019 - Midnight in Salem release. It's the thirty-third Nancy Drew game by HeR Interactive.
Official Twitter
The CW Nancy Drew TV series
Her Interactive Nancy Drew game series