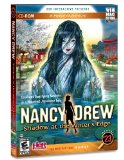 Shadow at the Water's Edge is the 23rd Nancy Drew Adventure Game. It is based on the fifty-sixth volume in the Nancy Drew Mystery Stories.
Plot
Nancy is traveling to Kyoto, Japan as an English teacher with Bess and George. When she arrives at the Ryokan (Japanese for "Inn") she discovers strange things. There are lots of strange things going on at the Ryokan, causing guests to leave. Is it possible that a dead woman is causing all these accidents?
Characters
Nancy Drew- The main character. An 18-year-old Detective.
Kasumi Shimizu- The late mother of Yumi and Miwako and suspected ghost. She could be the one causing the accidents.
Yumi Shimizu- Older sister of Miwako who runs a Bento Stand. She hates that her birthright entitles her to take charge of the Ryokan.
Miwako Shimizu-The younger sister of Yumi and girlfriend of Rentaro. She works as the receptionist at the Ryokan.
Rentaro Aihara- The Ryokan's handyman and longtime boyfriend of Miwako. Rentaro loves to make robots and prefers numbers over letters.
Takae Nagai- Miwako and Yumi's grandmother, and mother of Kasumi. She teaches old Japanese traditions such as origami and tea-making at the Ryokan.
Phone Characters
Bess and George- Nancy's friends visiting Japan with her.
Savannah Woodham- A Paranormal investigator who visited the Ryokan.