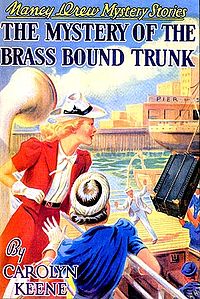 The Mystery of the Brass Bound Trunk (retitled Mystery of the Brass Bound Trunk for the revision) is the seventeenth volume in the Nancy Drew Mystery Stories series.
Plot summary
1940
Nancy plans to take a trip to South America by boat,along with chums George and Bess. They have joined a tour being conducted by an exclusive girls school. A mother of one of the students protests Nancy's presence on the tour. Prior to departure, Nancy learns there are issues involving the Trenton trunk company, mostly concerning the quality of merchandise; the owner, a friend of Carson Drew, asks Nancy to interfere in daughter Doris' life and relationships, so she will marry the son of a former business partner. . . Nancy receives a Trenton trunk to take along on her trip. Nancy has her usual problems as when searching for a case with the initials ND, a case falls, or was it pushed, and hits her on the head and Nancy blacks-out. Nancy comes to some time later, but finds the door to the room locked. She then hears someone behind her and still weak from the blow on the head, Nancy faints ! Nancy eventually wakes up and escapes and undettered, continues with the mystery. Nancy must solve several mysteries---who the mysterious red-haired young man could be, why Doris is withdrawn, what is going on with the trunk company, and why Mrs. Joslin protested Nancy, as well as aiding her daughter Nestrelda... and solve mix-ups with Nestrelda and Nancy's "identical" (or are they?), monogrammed trunks.
1972
On a trip to New York from the Netherlands, Nancy, Bess, and George, along with new friend Nelda, must discover why someone is warning both Nancy and Nelda, who share the same initials, and also discover where a mysterious trunk with the initials N.D. came from. Someone by the name of Otto August is using sign language-to beware of Nancy Drew and Ne! But who is Ne, and why should she beware? Join Nancy on this exciting adventure as she makes friends and solves a mystery of a man who is smuggling stolen jewelry.
Artwork
The 1940 cover art shows Nancy and George, trying to stop Nancy's trunk from being taken off the ship. The 1962 art was updated by Rudy Nappi, and shows Nancy, Bess and George, in Kennedy suits, and is much drabber in colors, but is the same scene. For the revised story in 1972, Nappi shows Nancy against a background of brown with a montage of images, including a jewel cache, included.