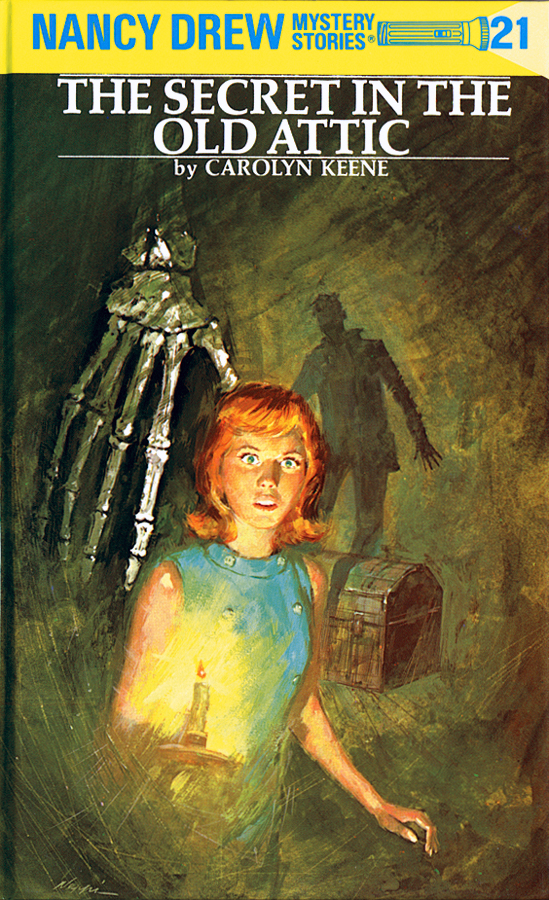 The Secret in the Old Attic is the twenty-first volume in the Nancy Drew Mystery Stories series.
Plot summary
1944
Nancy searches for clues to missing music manuscripts written by deceased soldier Philip March. Philip March's daughter and his father, living together on the family estate, are rapidly running out of money, and believe some of "Fipp's" music is being sold and played on the radio. Nancy goes to the estate to investigate, with the assistance of Bess and George. In the meantime, her father's client solicits her aid in his investigation of a rival company, which seems to be making silk using his patented methods. In the meantime, the girls are all planning to attend an Emerson College dance, except for Nancy - Ned doesn't seem to be interested. Could Diane Dight, rich daughter of the owner of the Dight firm, which Nancy is investigating, have turned Ned's head? And what is Bushy Trott, manic scientist, doing at the Dight plant?
Nancy continues trying to solve both mysteries, discovering hidden songs in the process, and eventually unravels the mystery which involves one criminal who has committed two crimes! All the while, she tries unsuccessfully to shed few tears over Ned, who seems frequently to be in the company of the snobbish socialite Diane. The resolution of both cases and her romantic plight is quite climactic.
1970
The revised version, still in print, is a condensed version of the original story. It is shorter by five chapters, and includes Diane Dight, but not the romantic subplot of the original plot
Artwork
Collectors of the series claim to greatly enjoy the original art by Russell H. Tandy, which shows Nancy with highly Gothic elements, by candlelight, in the old attic. In 1962, Rudy Nappi gave Nancy a modern flip hairstyle and changed the color to red, and altered her shirtwaist wrap dress to a generic red sailor-style dress for the cover art. In 1970, Nappi updated his art again, using shadowy apple green, and Gothic elements, including the skeletal hand, to showcase Nancy, looking very much like Barbara Eden in a coatfront shift, with a candle. This cover plays heavily on the spooky elements popular during the "Dark Shadows" era.