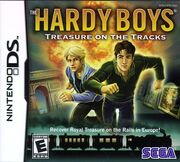 This is a Nintendo DS game featuring the Hardy Boys. It was promoted with a microsite.
Plot
The Hardy Boys are invited aboard the Royal Express, the train the Romanov family used to own! The goal of the people on the train is to find out what happened to the Romanov family. The ticket the Hardy boys get says it's November 6th, but that's a mistake, since this is actually in May.
Characters
The Baron is a German man who claims to be a Romanov, and that therefore, the hidden Romanov treasure is his.
Carol is a British historian.
Alexey considers himself to be one of the best art scholars of the 21st century. He wants to study Tsar Nicolas Romanov's paintings to find the treasure.
Isabelle is the train's French waitress.
Samantha is the mysterious spy who periodically calls Frank and Joe to help them out.